Dream Forest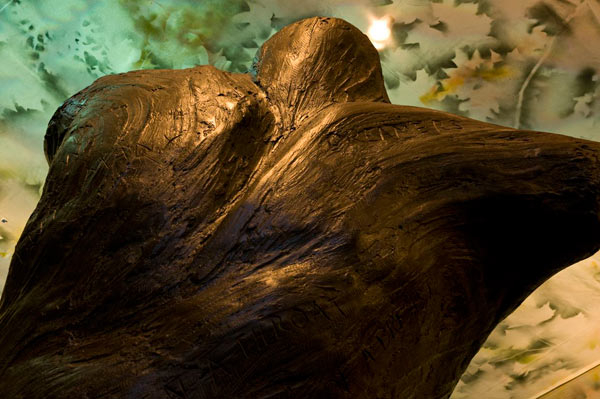 Click above for images of the Dream Forest installation at Customs House Museum, Clarksville, Tennessee, 2009. (Photos by Dean Dixon.)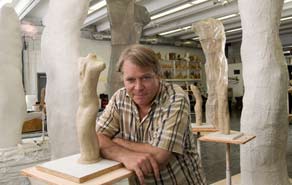 Click above for images of Dream Forest in progress. (Photos by Dean Dixon.)
Click the image above for a time lapse video.
See Flickr for more images of Dream Forest in progress
LeQuire sculpted Dream Forest, nine elongated, interpretive human torsos, assembled together on a colossal scale, with tree-like stature. In a darkened room, the viewer walks among the highlighted, 12-foot tall human torsos as if they are in a dream forest.
To continue the exhibit and to help bring the forest into the room, LeQuire created 8-foot tall prints for the walls, woodblock prints on paper embossed with leaves and inked.
In collaboration with author, Madison Bell, LeQuire gathered people's dreams and Bell edited them into narrative, poetic forms, which LeQuire incised in the sculptures, embedding them as part of the final surface texture.
"Alan is a really original sculptor who has spent lot of his career doing commissions or half-commission work where it's negotiated with somebody else. This is his biggest, most significant work that comes out of his inner life," Bell says, "Dream Forest is showing how our relationship with the natural world is the core of what makes us human."
LeQuire sculpted Dream Forest directly in plaster and painting the figures for exhibit indoors. Ultimately, as the edition sells, the human/tree forms will be cast in bronze.
Artist Statement
I've always liked working on a colossal scale--Athena Parthenos, Musica--this is my latest colossal project. It's different in that it is my own idea. There is no client. These pieces are modeled directly in plaster, but I hope some day to make them more permanent by casting them in bronze.
My primary focus from the beginning has always been on form, using form as a language to communicate feeling. This is a further exploration of form, blending human and vegetal form with the deep emotion that comes from my personal dreamscape.
I am a figurative sculptor to my core, and this is a big step for me because these are just torsos - no heads - and they're not very realistic. The challenge of Dream Forest is to make form by itself carry enough enlivened significance to animate the whole space, to make the forms retain as much emotional intensity as if they were realistic.
I feel lucky to have grown up on a farm and to have had all the experiences I've had outside and in the woods. This work is about my dreamscape, but it's also about the landscape. It's an ode to the disappearing forest ecosystem. These sculptures are like old growth trees in that they welcome and support us with a living presence.
One of the wonderful things about dreams is that they often synthesize the disparate elements in your life. In my case this has happened again and again in a specific form, a three-dimensional object. The space between the forms is important and so is the scale. The form, the texture, and the spaces between all work together to convey a sense of the living presence in the sculpture.
The prints are a way to continue the exhibit and the experience onto the walls that enclose it. I'm working with leaves and carved wooden blocks combining woodblock and collagraph printing techniques to make prints that are 8' tall and help bring the forest into the room.
In dreams I've examined surface texture in detail, and there are often layers of graffiti in the surface, much like the Elgin marbles in the British Museum and the casts of the Elgin marbles in Nashville, which have the ancient graffiti along with contemporary. A lot of ancient statues have graffiti on them. In talking over the project with Madison Bell, he offered to take our dream stories and try to condense them into useable narrations that I could incorporate into the texture. This is what I've done in an attempt to convey more of the dream experience itself and to help the viewer penetrate into a more poetic realm.
I think for all of us personal growth and transformation occurs first in our dreams before it occurs in waking life, and the sculptures in this exhibit document a personal transformation that has been taking place for years in my dream life. The earliest dreams that I remember had to do with colossal forms that were usually threatening or frightening, but lately these same forms have become anthropomorphic and more welcoming, nurturing... almost as if I am being visited by very supportive ancestors.
Press
Dream Forest featured in July 2009 American Art Collector (PDF).
Alan LeQuire's Dream Forest at Customs House - LeQuired Reading
Alan LeQuire's 'Dream Forest' comes to life and fulfills artist's vision
By MiChelle Jones
FOR THE TENNESSEAN
Alan LeQuire is best known for his giant public commissions: the Parthenon's Athena and Musica in the center of Buddy Killen Circle.
But the Nashville sculptor also finds time for personal projects. Cultural Heroes, his series of colossal heads of performers such as Lead Belly, Woody Guthrie and Marian Anderson, was shown at Nashville's Downtown Public Library this past spring. Now, Dream Forest, on view at Clarksville's Customs House Museum through Sept. 27, takes LeQuire's works to new dimensions and fulfills a long-held wish of the artist.
The Customs House's July 9 opening marked the Tennessee premiere of Dream Forest, LeQuire's latest colossal sculpture, and plans are in the works for a tour in art museums across the country.
The sculpture is what the name suggests: a large-scale installation that uses elongated 12-foot-tall human torsos to simulate a dream tree grove. It's similar in size to Musica in the Music Row roundabout: Nine 12-foot figures form the centerpiece of Dream Forest, compared with Musica's nine 16-foot figures.
Project grows naturally
After years of working on commissions and building an inventory of works large and small, LeQuire took advantage of a rare break in the action to work on this personal project.
"I had time to let the dream and the idea, the vision for the whole thing, sort of naturally grow," LeQuire said recently while sitting among pieces of the sculptures awaiting transport to Clarksville, Tenn. "I like doing that, because . . . to me it's a more natural process than paring down, which is what most artists do. They start with a big mess, then they pare it down and pare it down. That's kind of the opposite of the way I work."
LeQuire began making sketches of Dream Forest four years ago; maquettes, or 3-D sketches, came later (both will be part of the Customs House show starting in August). But production on the project began only in March. LeQuire was able to make so much progress on the multipart installation only because of a lot of help, including, he said, "some wonderful summer interns who got it, who got the idea and who worked really hard."
He also enlisted friends to assist with various aspects of the project: Author Madison Smarrt Bell helped to make the narrative more poetic, installation artist Annie Freeman consulted on lighting and Hatch Show Print's Jim Sherraden (husband of gallery director Elizabeth Cave) worked with LeQuire on prints that were incorporated into the installation. Long-time assistant Jammie Williams led the way in painting the pieces. "He's got a great eye and I've learned to completely depend on him," LeQuire said.
Artist returns to wood
The resulting installation is a collection of sculpted plaster torsos, weighing between 600 and 800 pounds each, painted in the browns and grays of tree trunks. Words derived from LeQuire's dreams run up and down the trunks, carved in block capital letters that suggest the graffiti sometimes cuts into trees — and also inspired by the graffiti left on Greek and Roman ruins, like the Elgin Marbles, casts of which surround LeQuire's Athena.
The placement of the torsos simulates a small grove, an illusion enhanced by a floor covered in mulch and pine needles, dim lighting, a scrim hanging overhead and a perimeter defined by a series of woodblock prints.
In true LeQuire style, the prints are large-scale (93 inches by 25 inches); each woodblock took about seven hours to carve and extra-long beds had to be constructed to print them. The printing process itself was also an involved undertaking. First, leaves were affixed to a woodblock and blind embossed onto textured paper, creating subtle traces of the outlines and stems. Next, the block was printed over that design, in various greens, golds or browns. After that, the carved woodblocks were printed on top of the color.
"I haven't really done any printmaking in 20 years," LeQuire said. "Finally, Jim gave me the impetus to get it done, otherwise I probably would have dropped it, because it was a lot to do in three months."
LeQuire said Sherraden joined him every Friday night for six weeks, working until 2 a.m. LeQuire himself worked till 2 each morning every day. He looks weary, but pleased.
"I began as a woodcarver in high school and sort of quietly on the side I've been collecting and storing wood to carve my whole life," he said, "primarily cherry and walnut logs. So the woodcarving on the blocks has inspired me to go ahead and get back to woodcarving."
For now, he's enjoying Dream Forest.
"It feels great, I'm just hoping we don't break one on the way on the interstate," he said with a laugh. "I never knew it was so treacherous (journey to Clarksville); I'm hoping one doesn't roll out on the highway."
It didn't. The work made its debut at Customs House on Thursday.